Research
Research Facilities
Information Processing Center (IPC) and Maritime Information Processing Center (MIPC)
Information Processing Center (IPC)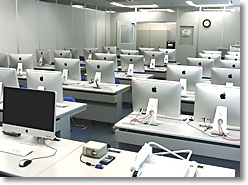 There are 29 ISTC education-use terminals installed in the Information Processing Center, providing a usage environment equivalent to that provided on the Rokkodai campus.
The Information Science and Technology Center (ISTC) is a joint facility for both research and education, providing computation functions, education-support services, and network services. Please refer to the ISTC website for further details.
The Maritime Information Processing Center (MIPC)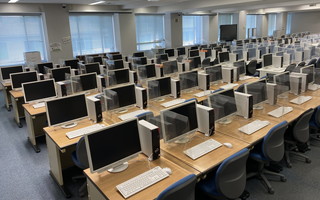 The Maritime Information Processing Center has 120 education-use terminals. These terminals meet the Graduate School's original specifications of a Windows and Unix multi-operating system environment and provide a software environment essential to the education in the Graduate School. When using the terminals, it is necessary to have an account separate to that for ISTC. Please ask at the IPC Administration Office for further details.
*The Fukae campus has a 1Gbps optical fiber campus network, while it is also connected to the Kobe University Rokkodai campus by the same 1Gbps network, which provides students with an Internet environment to use SINET (the Scientific Information Network) via this campus.