Research
Research Facilities
Marine Simulator System
Background to its introduction
The recent rapid progress in the fields of science and technology are making ships bigger and faster, while the ship-navigation environment is also becoming even more complex. As a result, the dangers to vessels sailing on the oceans are increasing day by day. Due to the dangers facing these vessels, once an accident happens, inevitably the situation will become irrevocable from an economic and an environmental protection perspective. In order to prevent serious accidents before they occur, such as a tanker accident in the Malacca Strait that is the route by which Japan receives energy, and so that ships can travel safely in an navigation environment in which they face these dangers, it is considered absolutely essential to enhance research, education, and training for ships' navigation officers and engineers who are responsible for their vessel's voyages. Currently, the International Maritime Organization (IMO) is also considering reviewing the STCW Treaty (an international treaty on seafarer training, certification of qualifications, and standards for watch shifts), and within this situation, it has been recognized that enhancing education and research is an important societal requirement, and furthermore this is supported by international public opinion.
Therefore, The Faculty and Graduate School of Maritime Sciences, Kobe University, installed the Marine Simulator in academic year 2009 (year ending March 2010) as an education and research facility. The installed simulator is comprised of the Navigation Simulator to simulate maneuvering and navigation, and the MEPS (the Marine Engine Plant Simulator), and the two simulators work in cooperation with each other.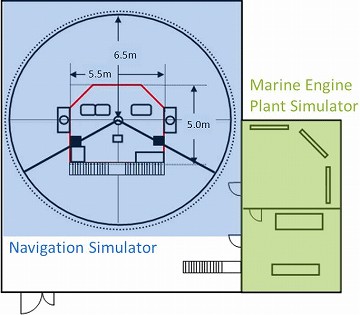 Intended uses
For education and training as prescribed by law for the education courses of seafarers
To provide suggestions for formulating global standards relating to the above-described laws on education and training
For research that will contribute to the safety of marine traffic
To investigate the causes of and measures to prevent maritime accidents
The Navigation Simulator
Overview
This simulator can reproduce a variety of navigation conditions using visual projections and various other equipment. The spherical screen reaching to the lower part of the room is able to reproduce extremely realistic quay wall simulation scenes for both launching and docking. Also, by adopting simulated displays using software for the various information devices on the bridge, it becomes possible to reproduce and examine displays methods for the various types of devices that will be used on bridges in the future.
System configuration
Ship system
Bridge of own ship, steering stand (including auto pilot unit), navigation console, chart table, ARPA, ECDIS, repeater compass, etc.
Visual system
Screen, graphic display equipment, database, etc.
Instructor system
Observation monitor, radar indicator, devices to set the experiment's conditions, devices to create the database, devices to evaluate the practical training, etc.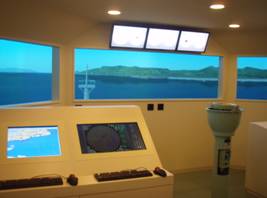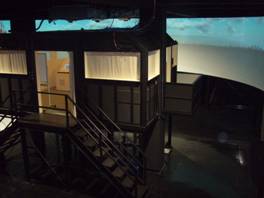 Marine Engine Plant Simulator
Overview
The Marine Engine Plant Simulator (MEPS) of the Faculty and the Graduate School is modeled on the engine plant of a large ocean-going container ship (engine rated power output, 43,840 kW), and it a system to reproduce virtually the operations of the ship's main equipment, such as the main engine, generator, boiler, and exhaust gas economizer, while taking into consideration energy flow, mass flow, and heat balance. It is also possible to modify the simulation algorithms of the main equipment and it can be used for research purposes, such as for developing model plants.
System configuration
Integrated simulation system
Simulation calculation and control functions, printers for external records, etc.
Control room (C/R) system
Control console, computer with C/R functions, etc.
Engine room (E/R) system
Large touch-panel display, computer with E/R functions
Instructor system
Simulation processing computer, computer with C/R & E/R functions, intercom equipment
(to the bridge and C/R), etc.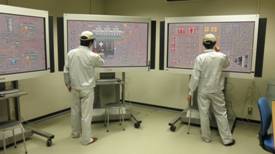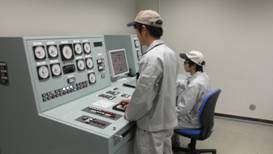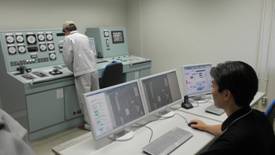 The procedure to apply to use the simulator (in Japanese)