Research
Research Facilities
Maritime Museum of Kobe University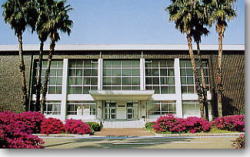 The Maritime Museum widely collects and displays materials of reference to maritime education and research, and also exhibits both to members of the University and to the general public one part of its collection, with the aim of contributing to the dissemination of maritime thought.
The Maritime Museum's experts are organized from among the teaching faculty and other volunteer specialist experts, who arrange the materials and conduct survey analyses. In addition, currently they are creating an electronic catalog of the materials that is being published on the Internet.
There is an auditorium with more than 600 permanent seats on the top floor of the Museum building.
It is possible to view a part of the collection in the online virtual museum and search the collection on website of Maritime Museum of Kobe University (in Japanese)