About Us
Dean's Message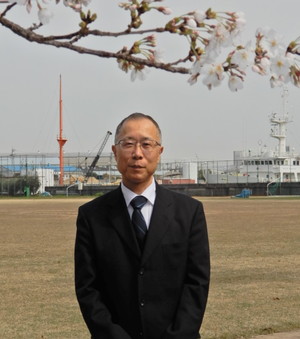 Humanity has developed by utilizing the sea. This is especially true in Japan, an island country surrounded by the sea on all sides, where the benefits from the sea are immeasurable. The maritime industry plays an important role in connecting the world through the sea.
The Graduate School of Maritime Sciences / Faculty of Maritime Sciences is based on the Kobe University Charter of Education, and aims to foster and produce highly skilled experts / global leaders with specialized knowledge and professional skills concerning the sea who can contribute to the development of maritime society. Under this principle, we conduct education and research on "human activities related to the ocean," which contribute to solve various issues facing the maritime sciences. We continue to strive for promoting interdisciplinary education and research from the viewpoint of science, engineering, and social science.
Fukae Campus, where The Graduate School of Maritime Sciences / Faculty of Maritime Sciences is located, has a long history of providing merchant ship education in Japan. We have established a learning environment to embody essential principles so that the acquisition of advanced techniques and skills can be fulfilled. We have a port facing Osaka Bay on the south side of the campus, and have a large number of vessels, including our training ship "Fukae Maru." Also, we have many experimental training and research facilities, such as the Ship Model Basin Experimental Facilities, the Ship Navigation Simulator System, a Hyper-Cryogenic Laboratory, and an Accelerator and Particle Beam Experiment Facility. In addition, our Library for the Maritime Sciences has books about the sea and ships, and our Maritime Museum, which is open to the public, holds and displays a large number of historical artifacts related to ships. In addition, we are continually improving the learning environment for our students, such as the operation of student study spaces and the enhancement of the Wi-Fi capabilities in our school buildings.
As the Dean responsible for the most advanced education and research on ocean science, we strive to increase our international presence in the area of ocean science. Currently, preparations for transitioning into a new faculty are in progress, which will expand our educational and research subjects.
We work to educate, research, produce human resources, and to do our best to contribute to society towards the creation of a sustainable future in maritime society and new maritime technologies.
April.2020