The Training Ship 'Golden Bear' of California Maritime Academy Visit Kobe
Last Update 2010.06.15
The training ship 'Golden Bear' of California Maritime Academy (CMA), which is one of the major sister Universities of the Faculty of Maritime Sciences of Kobe University, visit Kobe on 28th May. The main aim of her visit was the enhancement of academic exchange between the Universities and deepen the relationship. The on board reception organized by the captain has held on 29th May, and the Dean Professor Oda and 9 faculty members and 5 students attend it. Some of the participants are already known each other and the students visit CMA as the trainees of the special lectures on Maritime Security Management and Practical English held in March 2008 and September 2009. The cerebrate their reunion and all the participants find the sustainable friendship now and future.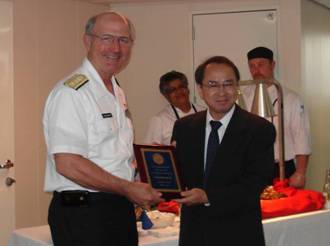 President Eisenhardt, CMA and Dean Oda, Kobe University exchange pennants
The 'Golden Bear' will visit Kobe again at the end of July 2010, and a student exchange program will be held. It would be expected to have kind faculty member support and participates on the event.